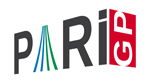 ---
Main
Download
Packages
GP in your browser
Funding
SEARCH
---
Help / Community
FAQ
Documentation
Tutorials
Mailing Lists
Bugs
Timeline
Ateliers PARI/GP
---
Library
Publications
Contributed GP scripts
Links
Fun!
---
Development
Latest Changes
Version Control
Coding Guidelines
PariDroid
Logo
---
Tests & benchmarks
Buildlogs
Coverage Report
Doc Coverage
Refcards test
Benchmarks
---
WWW Stats
Atelier PARI/GP 2016
(Institut Fourier, Université Grenoble Alpes, January 11th to 15th, 2016)
Organizers:
Bill Allombert (Bordeaux) Karim Belabas (Bordeaux) Philippe Elbaz-Vincent (Grenoble) Xavier Roblot (Lyon)

---

[ Announcement | Registered participants | Hotel suggestions | Atelier wiki | YouTube Channel ]

---
Announcements:
Registration on monday takes place at the Institut Fourier building [ how to get there ].
All talks will take place at Tour Irma, room 1 (the tower in front of the Institut Fourier building).
There is a conference diner on Wednesday 13th at 8pm, in restaurant Jardins Sainte-Cecile.
The Atelier wiki (no account required) is available for coordinating the hacking session.
Feel free to contact the organizers to suggest a talk, ask for a tutorial, or exchange ideas.
---
Monday, January 11th.
Tuesday, January 12th.
Wednesday, January 13th.
Thursday, January 14th.
Friday, January 15th.
9:30 - 10:00
Herbert Gangl
Polylogs, MZVs and K-groups | Video
10:10 - 10:40
Coffee break
10:40 - 11:20
[ Discussion ] Planning for PARI 2.9
11:20 - 12:00
[ Discussion ] Debriefing, what next ?
12:00 - 14:00
Lunch
14:00
End of Workshop
14:00 - 18:00
Extra hacking session, if people are still around :-)

We thanks Fanny Bastien of Institut Fourier for recording and editing the videos.

Funding.
This workshop is funded by the ERC Starting Grant ANTICS, the Horizon 2020 ERI project OpenDreamKit and the LabEx PERSYVAL-Lab (ANR-11-LABX-0025-01).
| | | |
| --- | --- | --- |
| | This project has received funding from the European Union's Horizon 2020 research and innovation programme under grant agreement N°676541 OpenDreamKit. | |


[ Previous Ateliers ]