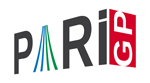 ---
Main
Download
Packages
GP in your browser
Timeline
Funding
Search
---
Help
FAQ
Documentation
Tutorials
Mailing Lists
Contributed GP scripts
---
Development
Ateliers PARI/GP
Bugs
Latest Changes
Version Control
Coding Guidelines
PariDroid
---
Tests & benchmarks
Buildlogs
Coverage Report
Doc Coverage
Benchmarks
---
Miscellaneous
WWW Stats
Logo
Fun!
Links
---
Atelier PARI/GP 2016
(Institut Fourier, Université Grenoble Alpes, January 11th to 15th, 2016)

Organizers: Bill Allombert (Bordeaux) Karim Belabas (Bordeaux) Philippe Elbaz-Vincent (Grenoble) Xavier Roblot (Lyon)

---

[ Announcement | Registered participants | Hotel suggestions | Atelier wiki | YouTube Channel ]

---
Announcements:
Registration on monday takes place at the Institut Fourier building [ how to get there ].
All talks will take place at Tour Irma, room 1 (the tower in front of the Institut Fourier building).
There is a conference diner on Wednesday 13th at 8pm, in restaurant Jardins Sainte-Cecile.
The Atelier wiki (no account required) is available for coordinating the hacking session.
Feel free to contact the organizers to suggest a talk, ask for a tutorial, or exchange ideas.
---
Monday, January 11th.
Tuesday, January 12th.
Wednesday, January 13th.
Thursday, January 14th.
Friday, January 15th.
9:30 - 10:00
Herbert Gangl
Polylogs, MZVs and K-groups | Video
10:10 - 10:40
Coffee break
10:40 - 11:20
[ Discussion ] Planning for PARI 2.9
11:20 - 12:00
[ Discussion ] Debriefing, what next ?
12:00 - 14:00
Lunch
14:00
End of Workshop
14:00 - 18:00
Extra hacking session, if people are still around :-)
Funding:
This workshop is funded by the ERC Starting Grant ANTICS, the Horizon 2020 ERI project OpenDreamKit and the LabEx PERSYVAL-Lab (ANR-11-LABX-0025-01).

[ Previous Ateliers ]